anyone remember that commercial i think it was for a health plan where it's a couple telling each other excuses about why they didn't go to the gym? i still laugh every time i think about that commercial. wednesdays are weird was my personal favorite excuse.
did i go to the gym today, no, wednesdays are weird. instead, i missed my train by five minutes and had to sit in the station for an hour to wait for the next one. why i missed the train by five minutes is a long story that involves lack of umbrellas and pop up meetings. it's a boring tale that i will not be regaling you with.
anyways, i liked my outfit today so i took an insanely boring picture of myself in the mirror (please note it was when i got home after missing my train, sitting in the train station for an hour, and then sitting on said train for another hour. you'll see how excited i look soon enough). the outfit is nothing special, but i liked it. as a special plus i was asked if i was pregnant today so that's always a great feeling. that's when you know your outfit is hot fire. spoiler alert, i'm not. i may have put on a few lb's. i like to say i'm insulating for winter.
so without further ado, i give you a crazy boring photo of my outfit.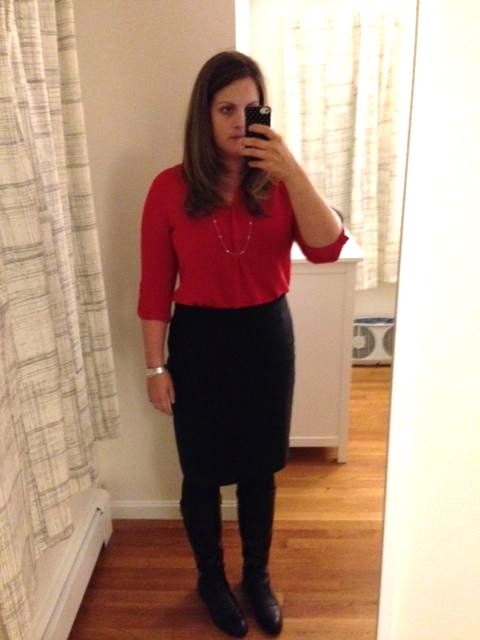 just to make sure you never stop reading my blogs and only come for the pictures, i made the picture nice and blurry. i don't want to spoil you with mad photo skills.
outfit details: shirt: pleione (nordstrom); necklace: gift (unknown); watch: burberry (nordstrom); skirt: banana republic; tights: target; boots: tahari (dsw)