alright let's dive right in. golden globes judgefest is underway.
best hair and makeup: olivia wilde
omggggg, girlfriend looked awesome. forget the fact that she looks this good preggo, her hair and makeup was better than everyone else. the ombre color, the effortless style, it's just perfection. her hair is just so awesome and i can't get over it. her eye makeup was also on point. i loved that she didn't do a bold lip. she went with just the eye makeup and it was killer.
best hottie with a body: kate beckinsale
i'm pretty sure kate beckinsale is the best looking person on the planet. she doesn't age. she always looks amazing. she's just SO good looking. she looked so hot per usual.
and now best dressed: juliana margulies:
i was surprised by my choice on juliana, but she looked flawless. i had to give her the big prize. this dress is just so flattering in every way. the cap sleeves, the deep v, the cinched waist. i just loved it all. her hair in the low messy bun perfectly showed off her shoulders and the neckline. the statement earrings were stunning. her makeup was simple and elegant, and her eyelashes looked amazing. plus if you didn't know, her husband is loads of years younger than her and is so cute. as an added bonus she laughed super hard at tina fey and amy poehler's awesome joke about george clooney only dating super young chicks.
honorable mention for looking awesome: amy poehler on the red carpet
homegirl was looking so fly all night, but my fave was her red carpet look. once again, her and tina absolutely killed it onstage, but before they even got there i spotted her rocking this black number on the red carpet. the subtle mid section cut out, the contrasting belt, and the asymmetrical neckline looked just perfect. it didn't hurt that her body is looking absolutely banging.
and now worst dressed, which was a tie: drew barrymore and paula patton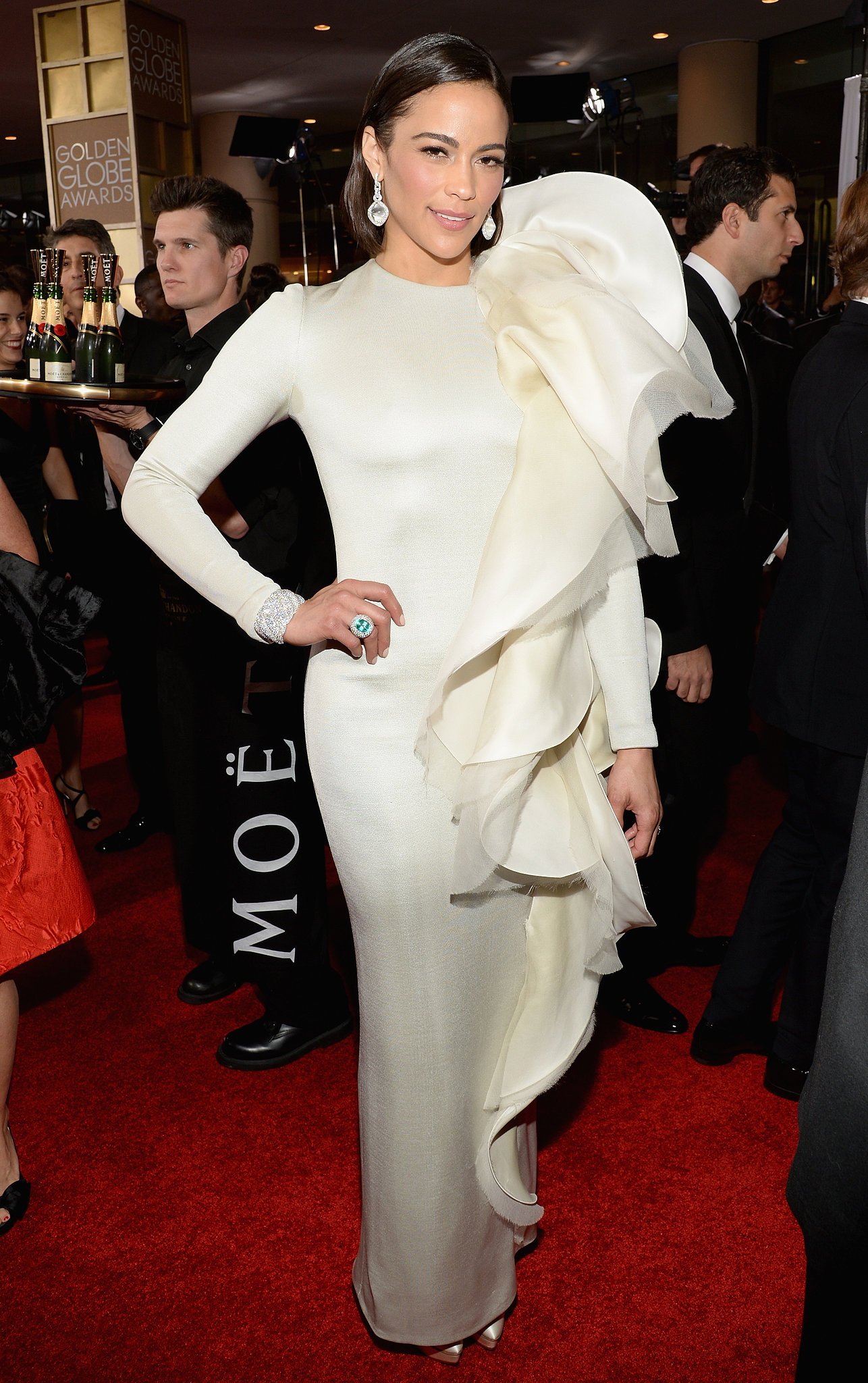 okay, i realize drew is pregnant, but after seeing kerry washington and olivia wilde, she can't use that as an excuse. this dress was just all wrong for her pregnant or not. it just looked crazy. and then bringing in the matchy shoes just did not work. i couldn't put it all on drew though because paula patton looked downright horrendous. plus, she couldn't even walk in the dress. the shoulder just totally overpowered her and it just looked terrible. both these ladies are stunning, but this night was just not their night.
and now some random thoughts from the night:
- i'm still confident that sarah hyland from modern family had a boob job.
- ooooh channing tatum and his pulsing jaw have arrived and he has bad facial hair.
- michelle dockery from downton abbey: so pale and so stunning.
- stop the presses, sofia vergara is not wearing a mermaid dress, but don't fret, she's still showing off the twins.
- bradley cooper, hello too tan man.
- come on leo, you brought your mom? you always bring your mom. take one of the models out for a spin once in a while.
- ooooh ben affleck. still my fave.
- matthew mcconaughey's speech = perfection
- oh jared leto, you are so far from jared catalano level now. sad. your eyes are still piercing though.
- julia louis dreyfus looks amazing in red.
- aaron paul's wife is so hot.