due to last week's insanity, i haven't posted an outfit in awhile, so voila!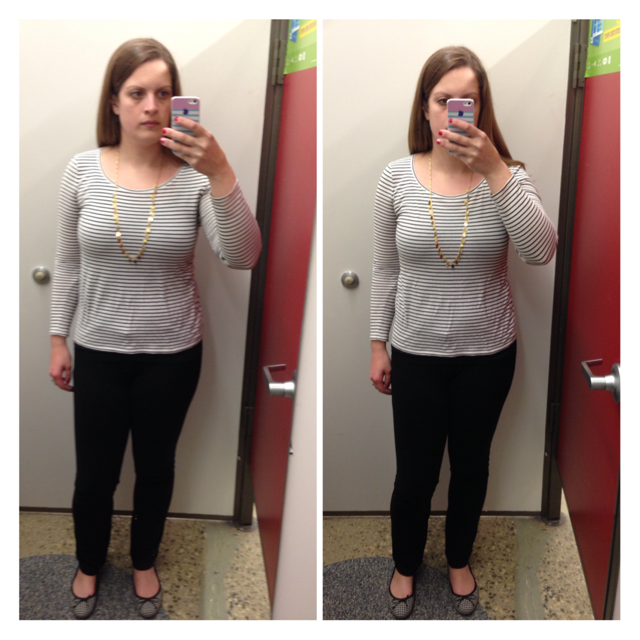 outfit details - shirt: ann taylor (old); necklace: j.crew (2012); pants: ann taylor (old); shoes: banana republic (winter 2012)
this is actually the last time this shirt will be featured on the blog. why? because it is now housed in the garbage. as you can see the mid section got super stretched out and constantly looks wrinkled. also, there may have been a couple holes in the arm. after wearing this, i headed to old navy to get a few new basic striped shirts, t shirts, and tanks. old navy has tons of cute summer stuff, but i tried to stay away as much as i could and just focus on refreshing the basics in my wardrobe. every one in awhile you need to just buy some basic and less exciting clothes. and yes, i think of black or navy striped shirts as basics.
this past weekend i was running some errands and happened to stumble upon a gap in a strip mall. i have this theory that when random clothing stores that normally are in malls are in strip malls or free standing, then they have more and better merchandise. my theory was correct this weekend.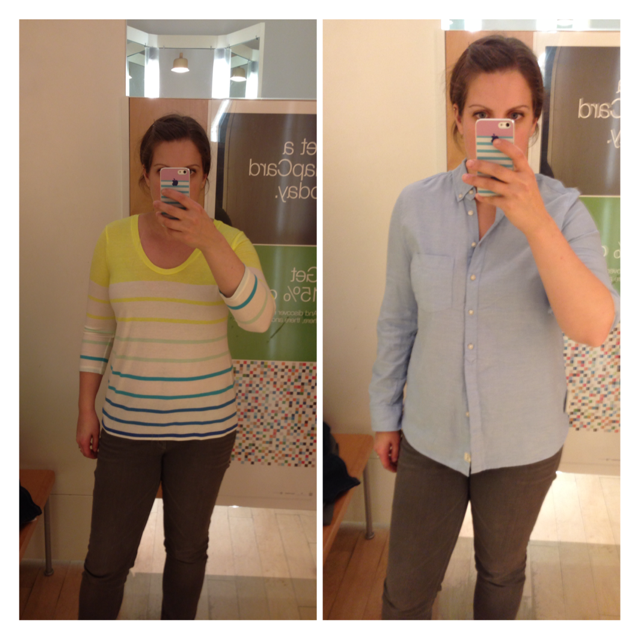 i picked up this bright striped shirt and this classic blue button up. the striped shirt is beyond soft. it will be perfect for spring and early summer. the colors are so vibrant, i'm pumped to wear this more as the weather warms up. the blue button up, i've been trying to find forever. i finally found the perfect blue oxford shirt. the best part about this purchase was the striped shirt was $6.99 and both were an additional 30% off. through april 24th if you have a gap, banana, or old navy card, you'll get 30% off your entire purchase. if you don't have a card, you still get 25% off your whole purchase. so get shopping!