i used to go all out for saint patrick's day. since i'm old now and awful at drinking, the fact that saint patrick's day was on a sunday this year did not get me excited for it. instead AJD and i went outlet shopping in the morning (pictures to come in a future post). then we headed to lynn, ma to check out monte's pizza and enjoy some adult beverages.
first up, i decided to take a picture of my outfit on sunday. i usually only post work outfits, but on the weekend i like to keep it casual so this was my shopping outfit: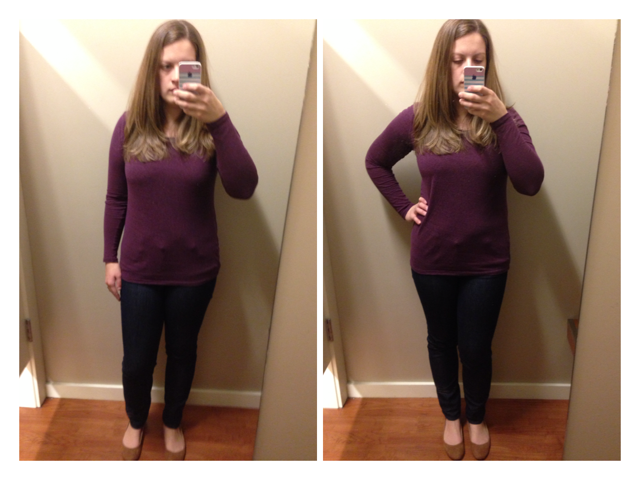 outfit details: suede flats: j.crew (current); modern skinny jeans: ann taylor (current); shirt: ann taylor loft (winter 2012)
after hitting up some fitting rooms, we headed to monte's pizza. a lot of people have raved about monte's so we figured we'd try it out. monte's is a dive bar that serves delicious bar style pizza.
i have to say the pepperoni was way better than the cheese. the cheese side was just lacking flavor, but the pepperoni was spicy and gave it the kick it needed. i'm not going to lie, monte's was good, but lynn is super inconvenient to get to from basically everywhere. i also am pretty sure it has more stop lights than any place on earth. the pizza wasn't to die for, so i don't think it will draw me back, but what will bring me back to monte's is the clientele. i don't know if i'm by myself on this one, but i thoroughly enjoy a dive bar with some townie old dudes. the old dudes who had saddled up to the bar for the afternoon were simply amazing. loads of entertainment. flirting with the salty female bar tenders. oodles of fun. AJD shares my love of a good old man bar, so when we got out into the parking lot, his first sentence was, "we need to come back next sunday."
do i think monte's is going to be my go to spot? nope. will i return? absolutely, but only in the afternoon when the old men are sure to be drinking and the salty bar tenders are sure to be pouring.