as i mentioned yesterday, this past sunday, AJD and i did some outlet shopping. we picked up ties for the groomsmen in our wedding from brooks brothers outlet. we both came up empty at j.crew factory store. then we headed to banana republic factory store. the whole place was 40% off which was a-mazing. unfortunately i only had minimal luck with the fit of a bunch of different pieces.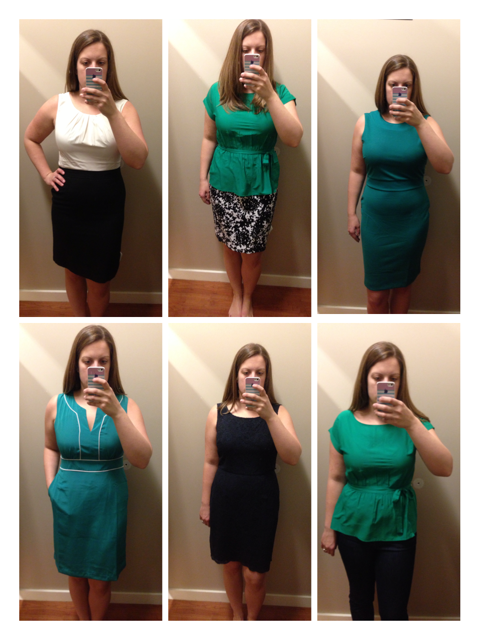 the black and white dress i thought was going to be a winner, but the bottom was super stiff and super tight whereas the top fit, so the next size up was a no go.
the green dress with the white piping fit great, but the fabric was super strange. the best way i can describe it was it felt like a nylon flag. very odd. didn't make the cut.
the black and white skirt was a super winner. i already have worn it once this week (with tights of course). i can't wait until spring to rock some bright colored tops with it.
the navy dress is actually all lace, but you can't tell in the picture. it has some really delicate details in the back neckline which i like. they were out of my size, so i got the next size up because i wasn't swimming in it and i can easily belt it for a more defined waist.
the other green dress was so unflattering. it seemed like it accentuated my stomach. definitely not a winner.
the green silk peplum shirt was the biggest disappointment. i loved everything about it. unfortunately my boobs loved nothing about it. it was too tight in the chest and was getting pulled too much. the next size up made the peplum looked baggy, which let me tell you, is not a good look.
anyways, i came away with a new skirt and dress for 40%. can't be mad at that.