technically i tried these clothes on last week, but i was lazy and never blogged last week, so you get to enjoy the pictures today.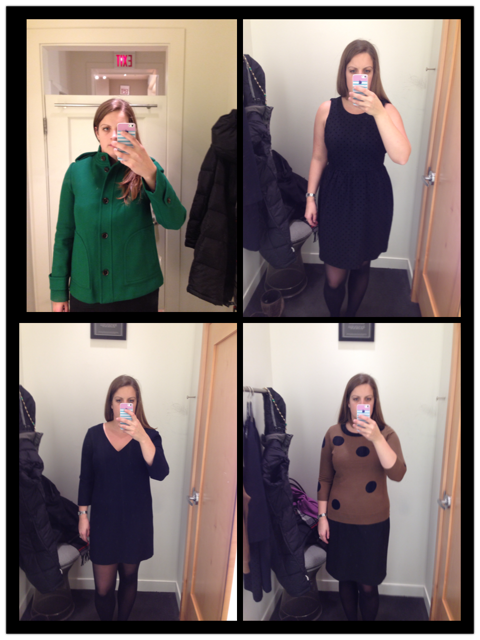 these are the clothes that were not winners. some were close to being winners and some were far away. the green jacket is the one that i've been dying to try on from banana republic that i mentioned in this post. unfortunately, it just didn't do it for me in person. the military style on the shoulders is fine, but it sat way too far back on my shoulders and looked weird. also it has fake pockets (i.e. you can't put your hands in them) and that doesn't fly with me. the green color is amazing though. no cigar on this one.
the black dress (which has awesome black polka dots) was such a let down. it's from j.crew, was on sale, and was an additional 30% off the sale price. it was also super comfortable. unfortunately they didn't have it in my size and the size i tried on was too big in the chest and if you saw a side view you'd be able to see a majority of my bra, so no dice.
the brown dotted j.crew sweater was a disaster. i don't know if it was the color or the pattern, but it was just uber unflattering on me.
the blue v-neck dress was the biggest disappointment. i LOVED this dress. again from j.crew, again on double sale, but again no dice. this dress fit perfectly and was so flattering and comfortable, except for the fact that it was waaaaaay too short. i'm bending my knee so you can't really tell in the picture but this dress barely covered my bum and lady bits. not the look i wanted.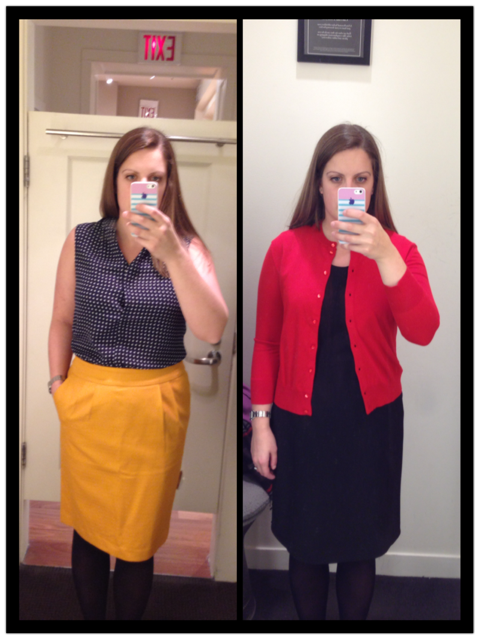 the red cardigan on the right i picked up on double sale at j.crew. i then proceeded to wear it on valentine's day to be in the spirit. super soft. very nice.
the outfit on the left i tried on at banana republic. i LOVED the skirt but it wasn't on sale so it didn't make sense to purchase. it's light and cotton and fully lined, but needs to go on sale before i'll pull the trigger. the dotted shirt i also loved except it did not love my boobs. you can see the buttons pulling apart. i tried the size up but it was way too wide, so this one did not come home with me. if you're smaller chested, i highly recommend this shirt because it's really comfortable and flattering tucked into a skirt or worn with pants.
phew, that was a lot of describing my latest outing in the dressing rooms. one quick note, the j.crew dressing room at copley place is SO hot. it's like what i imagine being questioned in a police station is like. banana republic at copley place on the other hand has the best mirrors in the game.