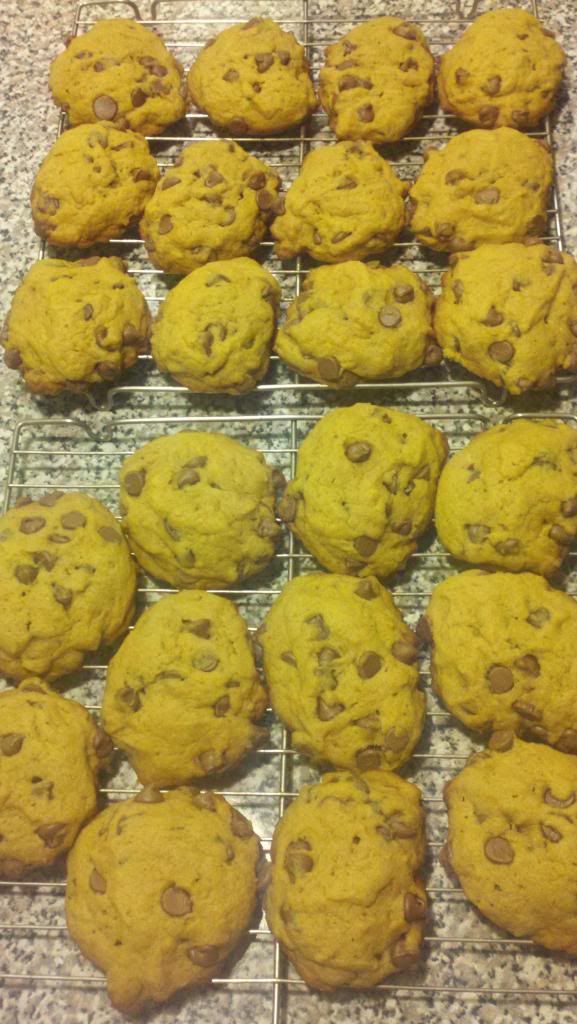 in prep for turkey day on thursday, i came home from work and immediately started baking. i am not a baker. i don't like that you have to put in exact amount of ingredients. i like to throw shit around when i'm cooking, but when you bake you have to follow the recipe and do what the bigwhig cooks say. my big gripe is with butter. i prefer to just melt it in the microwave. so much easier to mix. i know this is very un-kosher when it comes to baking, but you know what? these pumpkin chocolate chip cookies are freaking delicious, melted butter and all. so i guess melting butter in the microwave is my way of sticking it to the man.
if you're so inclined for these amazing cookies, here's the recipe (from moosewood cookbook):
1 cup butter, at room temp (or in the microwave if you're a rebel)
1 tsp pure vanilla extract
2 cups unbleached all purpose white flour
in large mixing bow, cream together butter and sugar. add pumpkin, egg, and vanilla and mix until well blended. sift together the flour, baking powder, baking soda, cinnamon, allspice, salt, and add to the mixing bowl. stir well to form a soft batter. stir in the chocolate chips.
drop teaspoons onto large, unoiled baking sheet. bake for 10-15 minutes until slightly brown on bottom.
the baking extravaganza continues tomorrow with my first ever attempt at apple pie (from scratch)!