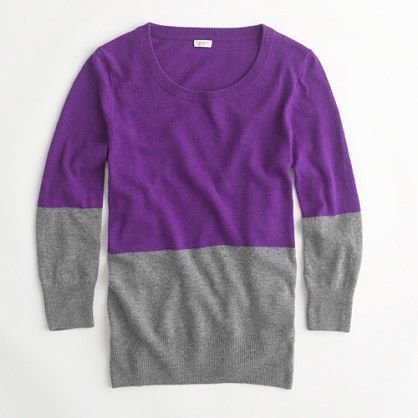 a couple of weeks ago, AJD and i were at the j.crew factory store. i saw this sweater on a mannequin and immediately fell in love. lovely bright purple plus colorblocking?! sign me up. then of course i couldn't find it anywhere in the store. does anyone else have this problem? i'm really good at staring at mannequins and admiring the clothes that are on them, but then actually finding the clothes that are on the mannequin is a different story. i think sometimes my brain stops working when i'm shopping. i think stores should have mannequins holding piles of the clothes that are currently on said mannequin. anyways, i digress. i tried on a different sweater and was debating on whether or not to get it, when out of the corner of the eye i spotted the colorblocked wonder. i immediately grabbed it to show AJD. to my shock and horror he gave that half confused/half grossed out face that boys get when you wear something super trendy like peplum or blazers. i was immediately confused as to why he didn't like it. i know he's not a fan of purple for himself, but i thought for me he wouldn't care. when i ask why he says, "i don't like colorblocking."
i bought it of course. as long as AJD likes the majority of what i wear i'm okay with it. AJD and i agree on almost everything i wear (save for my bright pink blazer, this sweater, and maybe a couple other items). i'm okay with my fiance (ew hate that word), my significant other, not being on the same page as me all the time when it comes to fashion. i'm a girl who shops a lot more than he does. there's no way we're going to see eye to eye on it all. there are entire blogs dedicated to "man repellant style." i think man repellers are good every once in awhile. it's a good source of conversation/discussion.
if you want to read another perspective on dressing for your boo, check out jenni from story of my life. her post from this week got me thinking about the topic. i think i'm going to continue to be okay with having AJD like what i wear the majority of the time. plus who doesn't like colorblocking, i mean really!